This post may contain affiliate links. If you buy thru these links, we may earn a commission at no additional cost to you.
---
There's a good deal of competition in the job market today.
People are seeking jobs that are outside of their preferred fields more than ever before.
That's why you need to separate yourself from the pack!
You can just about guarantee that you'll always get a job interview if you do these 2 simple things:
#1 – Sell Yourself In Your Resume
The most important thing you can do to get a job interview in the first place is to create an honest resume that gets attention.
Most job applicants simply create a typical resume — without emphasizing anything unique that would appeal to each specific company.
So… to stand out from all of the other resumes, make sure that your resume (and cover letter) are not typical.
The best way to make your resume stand out from others is to:
Here's how to know what the company wants and needs:
Thoroughly research the company before applying for a job there.
Learn exactly what they do, how successful they've been, their strong points, their weak points, and who their competitors are.
Study the job posting itself and make note of the specific things they're looking for in a job applicant.
Use all of this information to create a completely custom resume written specifically for each company.
Sell them on all the ways that you can help them do things better… faster… cheaper… you get the idea.
Whatever they need that you happen to have experience with should be:
For example, if a company has had trouble retaining clients, then be sure to mention the high client retention rate you obtained at a previous job. State this information as a percentage ("I maintained a 98% client retention rate.") as opposed to a generalization ("I maintained a large client retention rate.") Numbers speak louder than words and they quickly capture the attention of a hiring agent.
Remember, the first key to getting a job interview is selling yourself. You are a product. The company is the buyer. And the hiring agent is the decision-maker who determines whether or not the company wants to buy what you have to sell. Make sure they notice you — because you only get one shot at it!
Now that you've learned how to sell yourself and highlight all the ways you would benefit the company in your resume, here's how to explain all the ways that you would benefit the company… in the interview.
#2 – Follow Up After Submitting Your Resume
You won't get any interviews at all — unless you take the time to follow-up on every job application (or resume) that you've submitted.
Generally speaking, you should wait 1 week before contacting the company to inquire about the status of your application.
A somewhat sneaky (but highly effective!) tactic for acquiring a job interview is to apply for a position online and then call (or preferably walk into) the company after 1 week has passed. Ask whoever is available if they can check on your application. Cite the fact that your Internet connection was unstable and that you aren't sure if your application was received properly.
Chances are someone will check to see if your resume was received. This alone guarantees that someone actually looks at your application. And now they have a face to put with the resume!
Plus, having someone look over your resume — while you are in direct communication with them — greatly increases the chances of getting a job interview.
Finally, ask when they are expecting to fill the position, or when it would be okay for you to follow up. Make a mental note of that date, and after you've left the office, put on your calendar the day that falls 1 week before that date. That way, you'll have plenty of time to prepare and remind yourself of this important date that's coming up on your calendar.
Don't forget to follow through and contact the company again for a progress report. Persistence definitely pays off when trying to get a job interview!
A Job Interview Guaranteed?
If you take the time to research each company, write a personalized resume specifically for each company, and follow through to make sure your resume gets seen, then you will more than likely get a job interview.
In some cases, you may be interviewed that very day… if you chose to walk into the company's front door!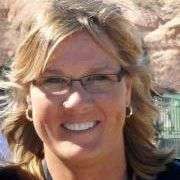 My very first job after college was as a Career Counselor — helping college graduates choose their ideal career and plot a course toward their dream job. Ever since then, I've been helping others streamline the job search process — by focusing only on what's most important and ways to stand out from other job candidates. As an entrepreneur myself who works from home full-time, I'm especially passionate about helping others fulfill their entrepreneurial dreams. When I'm not helping people find ways to get paid doing what they love, you'll find me at the corner of Good News & Fun Times as publisher of The Fun Times Guide (32 fun & helpful websites).