This post may contain affiliate links. If you buy thru these links, we may earn a commission at no additional cost to you.
---
With rideshare services like Uber and Lyft promising take-home pay as generous as $50,000 and up, it might seem as if you should quit your job and start driving.
But does it really work out as well? How much should you trust in the rosy future that these opportunities promise? How much do Uber drivers make… really?
The truth is somewhat complicated.
My husband drives for Uber. He makes pretty good money doing it — as a side gig. He averages $20 an hour. (See his driving stats and earnings below.) We live in a suburb of Nashville, about 45 minutes away from the airport.
If you're thinking of signing up as an Uber driver, start here to get $600 (guaranteed) after completing your first 100 trips!
Following is some interesting salary info from drivers who are working for various rideshare services.
You will find my husband's best advice for future Uber drivers at the very end of this article.
Uber says its drivers make $6 more than traditional cab drivers, but the devil is in the details.

Source
What The Research Says
According to MBO Partners, a creator of digital tools for the self-employed, the reality tends to be somewhat less encouraging:
You're likely to survive but not thrive. Close to 60% of those who work in the gig economy make $40,000 a year or less for their efforts.
You do have a chance of thriving. Almost 17% of gig economy workers make $75,000 a year.
Most workers in the gig economy, though, see their involvement as part-time rather than full-time. That means that when earnings from other activities are added to gig earnings, the total is likely to be a respectable figure.
So, when combined with other full- or part-time income, you'd probably be quite happy with your earnings as an Uber driver or a Lyft driver.
This is the case for my husband, who started working for Uber on a part-time basis until his newest entrepreneurial idea began making money.
See the results from Ridester's survey of 2,625 Uber and Lyft drivers, regarding their satisfaction with earnings. This is one of the largest and most comprehensive independent driver earnings studies to date.
Here's What To Expect As A Rideshare Driver
Certainly, you can make a decent income on the side driving for Uber or Lyft — if you're willing to put in the hours.
Before you jump in, it's important to know what your expenses will be.
It can be deceptive to consider your gross income from driving alone. At around $20 an hour, you're likely to net about $1,000 a week — if you drive close to 50 hours per week.
Here are some things you need to know…
Commission
I've heard it said that "Uber drivers should put aside 20% of their take-home income for Uber's commission — so if you're making $1,000 a week, you only get to take home around $800 or so."
It's true that Uber takes a cut from every ride. This is technically the "service fee" in Uber's lingo. And, yes, it can be as much as 25%, 30% or even 40% of of a particular ride amount.
But the truth is… the Uber app shows you exactly what that amount is on every ride you've completed — and my husband is still making $20/hour even after Uber's commission is taken out.
Commissions are just a part of doing business. Uber is upfront about the fees. You can determine for yourself if it's worth it for you or not.
Insurance
Insurance for rideshare cars tends to be more expensive than insurance for personal cars.
While you could hide from your insurer what you're actually doing with your car, it wouldn't be a smart idea. Insurance companies usually find out when they look at your mileage.
I've heard it said that rideshare insurance can cost as much as $3,000 a year for a car such as the Toyota Camry — which works out to about $65 a week. That might be true somewhere like New York City, but it's not true everywhere.
The truth is, Uber and Lyft rideshare companies provide insurance during specific times, as long as your Uber driver app is ON:
Period 0: App is off. Your personal policy covers you.
Period 1: App is on, you're waiting for ride request. A personal policy without ridesharing coverage doesn't cover you. Uber and Lyft insurance limited to liability coverage.
Period 2: Request accepted, and you're en route to pick up a passenger. Your rideshare employer's policy is in full force.
Period 3: You have passengers in the car. Your rideshare employer's policy is in full force.
Many insurance companies provide rideshare insurance these days. Take the time to do some research where you live and compare the coverage amounts and cost before you buy.
Many providers only offer rideshare insurance in certain states, and while some policies are only an extra $30 a year, others may cost 3x more than a traditional personal car insurance policy.

Source
Car payment
You have to own your own vehicle in order to drive for Uber — or rent a car.
Many regular car leases do not allow for-hire situations. However, these days you can find car leases specifically aimed at ridesharing drivers.
For example, Uber has partnered with Avis. So if you rent a car to drive for Uber, you can choose from Avis' selection of well-maintained, reliable cars — including auto insurance and unlimited miles — for $214 per week.
You will naturally add more wear and tear on your own vehicle if you're driving for a rideshare company.
My husband signed up to drive for Uber fully aware of this "downside". He looks at it this way…
Yes, you buy more gas and have to maintain your car more as a rideshare driver. BUT, you get 58 cents a mile at the end of the year from taxes — which offsets what you paid extra on gas and car maintenance up front.
Said another way: you have to come up with the money for more gas, more oil changes, and greater wear & tear on the tires on the front end — but you get it back at the end of the year.
Here's an idea…
If you're driving your own car and you pay about $100 a week for your car payment — once you take into account depreciation (what your car loses in value as you drive it around), it's likely to work out to about $100 a week. So you might want to set aside that amount to start a "new car fund" — to help you buy a new car once you're done with your current vehicle.
Did You Know? If a rider damages your car, Uber will reimburse you for the repair or extra cleaning.
Taxes
Rideshare drivers pay business taxes as if they were in business for themselves. (Anyone who does any job in the United States and makes more than $600 in a given year must claim taxes on that money.)
At the end of the year, you will receive a 1099 form from the rideshare company summarizing your income for the year. It's the independent contractor version of a W2. It shows how much money you made and verifies that no taxes were withheld.
Tax wise, you can choose to deduct from your taxes any expenses associated with using your vehicle for your rideshare job OR take the mileage allowance. (My husband takes the mileage allowance.)
Generally speaking, you can expect to give 20% of what you made for the year doing rideshare jobs to the tax man.
You can look at it as either:
A cut in your hourly pay. (In my husband's case, 20% of $20 an hour would amount to making $16 an hour net.)
OR…
An expense that you need to "save for" — so that you are prepared to pay it come tax time. (Similar to the savings strategy I mentioned above, you might want to set aside 20% from each Uber paycheck for "rideshare taxes".)
Of course, you also don't get any vacation pay, unemployment insurance, or any other benefits that you would likely get at a regular job.
The Bottom Line
In the end, working a rideshare job for a company like Uber or Lyft does offer flexibility and reasonable pay — but it only works out well if you're willing to put in a great deal of time.
For most people, working for Uber or Lyft usually ends up being a decent part-time job — which is just fine for some.
Driving for Uber works great for my husband — because he is just trying to make a little extra money to keep the expenses from his other side business from affecting our home budget.
If and when you decide that a "regular" job simply isn't providing the life you always dreamed of, work in the sharing economy can seem attractive. You'll just want to keep in mind all of the costs associated with working in rideshare services and make sure the benefit outweighs the cost… for you.
My Husband's Tips For Future Uber Drivers
You will make more money per mile if you live closer to a big town. (We live 35 miles from Nashville.)
In rural areas, it would be difficult to make very much consistent income from a rideshare gig.
Don't chase the "surge" — because it will go away by the time you get there. And it's usually not worth chasing in the first place.
Why not?
Because a "surge" can happen simply because ONE extra person is waiting for a ride.
For example, if one person on the edge of town is waiting for a ride AND THEN another person from that same area also needs a ride — that alone can be considered a "surge".
Surges are dependent on the area of town and the number of riders waiting, in relation to the number of cars available in that specific area.
On the other hand, if you happen to see a surge that occurs regularly (say, every Friday around 9PM), then it's smart to be there. Just don't chase it! Don't change your driving pattern on the fly in order to take advantage of a surge.
Airport traffic can be steady and a good source of regular high-paying (and frequently tipping) customers.
Business travelers and out-of-towners are usually decent tippers.
Uber runs lots of promotions and provides frequent incentives for their drivers to earn extra money — these are great!
For example, they announce "Quests" twice a week (if you drive so many rides in a certain time-frame, you get so much money as a bonus) and "Boosts" randomly (you get surge pricing on rides in a certain area at a certain time, while the passengers are still being charged the regular price).See Uber's base fare and how rider fares are calculated.
Quests and Boosts are gamifications — ways that Uber keeps you motivated and on the road more. But they can also be used to help you set daily & weekly goals, stay focused, and have a clear agenda during your drive time.
There are also cash bonuses that are randomly announced as incentives. These are usually consecutive trip promotions. For example, if you complete 3 trips in a row in a certain area, you receive anywhere from $5 to $14 as a bonus — it varies.
Weekends are generally the most profitable days to drive for Uber — especially in the evenings.
But you can still do well on week days and week nights — especially if you're near an airport.
Strive to hit the "diamond level" of Uber Pro as quickly as possible. At the diamond level, you have to maintain 1,800 points a quarter as an Uber driver. This gives you priority access at airports, among other things — like 24/7 roadside assistance, 25% discounts on car maintenance, discounts at random restaurants, etc. (The airport priority and restaurant discounts are the 2 reasons I make a point to remain at the diamond level.)
Only drive on the days and times when high points are provided to Uber drivers.
For example, on weekends you get 5 points per ride. (On other days, you only get 1 point for every trip.)
In addition to obtaining higher points on weekends, you can also get extra points for trips that you start & stop during certain hours on other days:
Mon-Wed 2PM-6PM and 9PM-1PM
Thursday 2PM-6PM and 9PM -3AM
Friday-Saturday 9AM-3AM
Sunday 9AM to 1AM
Of course, this varies by region. (We're in Nashville, Tennessee.)
Use the Gridwise app to see how much airport demand there is at any given time.
The app is also good at showing you what events are going on nearby (with the exact days & times — so you'll know in advance when to be there as the events let out).
Venture Beat has a great summary on how the Grid Wise app works.
There are only 2 must-haves that all rideshare drivers need:
For your own safety, you should have a camera inside the vehicle monitoring what is going on at all times that you are working for a rideshare company. By the way, yes — this is legal and even recommended by Uber.
A dash cam is wise because… what if a rider accused you of doing something that you didn't do? Or what if you needed proof that a rider was behaving badly? Or what if you got into an accident? There are lots of times when an in-car camera makes sense for rideshare drivers.
I like this particular in-car camera because it:
Has both a rear camera and front camera — so it's recording what is going on in front of your car (while you're stopped and when you're driving) and it's recording what is going on inside your vehicle at all times.
Includes night-vision for when you're driving at night or in low-light.
Records sound.
Automatically turns itself ON and OFF when you start and stop the engine — so there's nothing to fiddle with or to have to remember.
Looks just like a regular rearview mirror! So, I don't feel compelled to take it down every time I end a shift with Uber. Plus, people who get in my car (friends, family, etc.) don't even notice that it's there.
I like this phone holder because it:
Holds any size phone (iPhone, Android, whatever) — there are 2 side supports that flex and a bottom support that moves to accommodate phones of various heights and widths
Fits into any cup holder in any car — there's an adjustable base and you "turn" it to make the base wider or narrower so it will fit in your cup holder.
Swivels to whatever angle works best for you — the flexible neck stays put, once you find the exact viewing position you like best.
Even works if you have a phone case on your phone!
Rotates to any angle — so you can view your phone horizontally or vertically, whichever you prefer.
Here are some screenshots of my weekly Uber earnings from 2019/2020 (at this point, I mostly drive on the weekends, primarily in the evenings):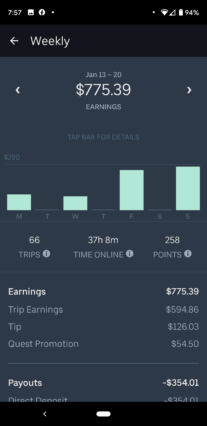 And here's what the Gridwise app reports look like:
I like how the Gridwise reports show how you compare to the average Uber driver nationwide and to other Uber drivers in your area!
Testimonials From Others Driving For Uber
There are some really good tips and strategies for making more money here — just keep in mind that Uber changes its "rules" all the time:
If you found this post about driving for Uber helpful, it would mean the world to me if you would share with others on Pinterest: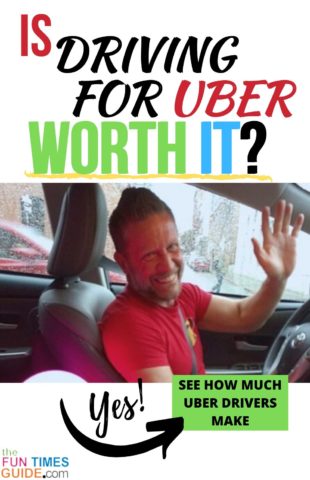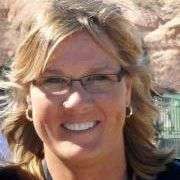 My very first job after college was as a Career Counselor — helping college graduates choose their ideal career and plot a course toward their dream job. Ever since then, I've been helping others streamline the job search process — by focusing only on what's most important and ways to stand out from other job candidates. As an entrepreneur myself who works from home full-time, I'm especially passionate about helping others fulfill their entrepreneurial dreams. When I'm not helping people find ways to get paid doing what they love, you'll find me at the corner of Good News & Fun Times as publisher of The Fun Times Guide (32 fun & helpful websites).