This post may contain affiliate links. If you buy thru these links, we may earn a commission at no additional cost to you.
---
Here are some fun (and funny) things to do at work.
I've seen some of the best office pranks and listed them below. Take a look and — you know — spice things up a bit at work. And break out of your old boring routine.
Warning: You (and your co-workers) will need to have a good sense of humor for these funny work pranks!
These are some of the best office pranks I've seen (and done)…
Do These Office Pranks When A Coworker Is On Vacation
You better protect the valuables in your workspace when you go on vacation this summer, otherwise this could happen to you:
Of course, you could always have a coworker you trust keep an eye on things for you. But then again, they're likely to be in on it too.
You Can Do These Office Pranks Any Day
For some laughs any day of the week, here are some of the best office pranks that would be funny anytime:
Which goes hand-in-hand with this…
Listen to Bud Light's Real Men of Genius "Mr. Company Computer Guy":
And that reminds me of one of my favorite Jimmy Fallon skits from Saturday Night Live. It's Jimmy Fallon (as Nick Burns, the company computer guy) helping Jennifer Aniston and others learn how to fix computers at the office:
---
This video shows how to pull off some fun computer work pranks:
---
And here's a classic work prank — how to foil an office or cubicle:
---
The Best Office Pranks For Work Parties
In addition to the links I've included above, here are some funny work pranks that would be ideal for office parties:
---
The Bottom Line When It Comes To Funny Work Pranks
It's always a good time to have a little fun at work — so join us if you will. Let us know if you try one of the pranks from our list or one of your own!
Keep in mind — if you're using a food item in your prank (aka peanut butter) make sure the person is not allergic. (Seriously.)
Be mindful of these (funny) workplace safety issues.
Here's another list of work pranks and office dares that I created.
And when all else fails, here's a must-read from The New Yorker!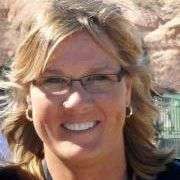 My very first job after college was as a Career Counselor — helping college graduates choose their ideal career and plot a course toward their dream job. Ever since then, I've been helping others streamline the job search process — by focusing only on what's most important and ways to stand out from other job candidates. As an entrepreneur myself who works from home full-time, I'm especially passionate about helping others fulfill their entrepreneurial dreams. When I'm not helping people find ways to get paid doing what they love, you'll find me at the corner of Good News & Fun Times as publisher of The Fun Times Guide (32 fun & helpful websites).