This post may contain affiliate links. If you buy thru these links, we may earn a commission at no additional cost to you.
---
What do Steve Jobs, Richard Branson, and Rachel Ray all have in common? They all became hugely successful without graduating from college!
I know that if you're reading this article you probably haven't reached "Steve Jobs" fame, and I realize that searching for a job without a post-high-school degree can be discouraging.
You can, however, become very successful by starting your own at-home business. Or if you prefer an office job — I've got good news for you.
There are certain fields that anyone with just a high school diploma or GED can easily break into and earn a salary that allows for a comfortable lifestyle.
Here are 14 office jobs without a degree that pay very well…
#1 – Purchasing Agent
Have you been told that you work well with others? It is the most important qualification for becoming a purchasing agent.
Purchasing agents (or buyers) ensure that a company has all parts and inventory needed.
This job requires a high level of cooperation with different departments and vendors.
Purchasing agents can earn as much as $70,000 a year.
#2 – Claims Adjuster
A claims adjuster (or examiner) investigates insurance claims and determines the settlement amount.
Much of the job is filing paperwork, but the salary is rewarding for a slow-paced office job.
If this is a good fit for your skill-set, you can plan to earn approximately $40,000 a year — with opportunities for annual raises and bonuses.
#3 – Web Developer
Web development is a fast-growing field with a large, expanding customer base.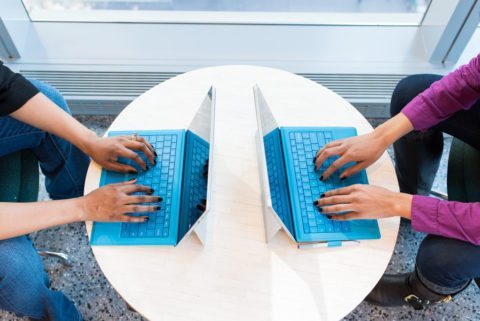 Businesses of every size need a professionally designed online platform.
Web developers typically gain their design and coding skills through self-taught methods.
You can also take online courses in web development to enhance your skills. The median yearly salary for web developers is around $62,000.
#4 – Mail Superintendent
Mail superintendents and postmasters need to have a thorough knowledge of the postal system — so as long as you have a good deal of experience in the postal industry, you're qualified.
Interested? You must pass a written exam to assess your comprehension of postal policies.
The main duties of the mail superintendent are overseeing other postal employees and completing administrative tasks.
The median salary for this position is $65,000 a year.
#5 – Sales Manager
Overseeing a team of sales representatives is a great job for you if you have stellar interpersonal skills and a drive to meet goals.
Most sales supervisor positions require no special degree.
It's an easy field in which to work your way up, and it is possible to make a 6-figure income at the highest levels.
#6 – Payroll Clerk
The payroll clerk for a company is essentially a stripped down accountant.
As a payroll & timekeeping clerk, you would handle all the financial information related to issuing employee paychecks.
You'll need to have a firm understanding of math and computers as well as be a strong communicator to relay important paycheck information to other employees
The median hourly wage for a payroll clerk is $20 — or $41,600 a year.
#7 – Dispatcher
Dispatchers should be reliable, detail oriented, and have excellent verbal communication skills.
A dispatcher is on the front line for emergency services.
Are you good under pressure? You need to be able to keep a clear head while dealing with stressful situations.
You'll likely have to undergo rigorous training once once you get the job and you can plan to make $18 an hour or more — that's $37,000 and up.
#8 – Credit Checker
A credit checker (or credit authorizer) is responsible for compiling a comprehensive credit history for those trying to obtain a line of credit.
As a credit authorizer, you investigate the personal history and credit standing of individuals or business establishments who are applying for credit via telephone and email.
A job as credit checker can pay as much as $50,000 a year.
#9 – Network Specialist
A network specialist helps clients troubleshoot their local area network (LAN).
These jobs are increasingly moving from call centers to individual employee's homes.
Many companies require no specialized network knowledge for new hires and train staff in network communications.
If you're computer-savvy, then you could easily get a job in networking and earn an average salary of $60,000 a year for a network specialist position.
#10 – Loan Officer
A loan officer enjoys a good mix of working with people and processing paperwork.
As a loan officer you would be responsible to evaluate, authorize, or recommend approval of commercial, real estate, or credit loans. You would advise borrowers on financial status and payment methods.
Most financial institutions require a high school diploma for this position.
The median salary of a loan officer is around $59,000 annually.
#11 – Gaming Manager
Of all the office jobs that pay well without a college degree, gaming manager may be the most fun career choice! All you need is some prior experience in the gaming industry.
A gaming manager is responsible for the day-to-day operations of a casino. You would ensure that the cash flow is running smoothly, rules are being followed to the letter, and employees are happy.
You'd get to socialize with the customers, and ensure that customers are having a great time.
Gaming managers usually make around $70,000 a year. Jobs are limited to those states or provinces that allow gambling.
#12 – Transportation Manager
Transportation managers need to have excellent time management skills, the ability to think quickly, and above-average people skills.
As a transportation manager, you would either be required to lead operations for a company that provides transportation services. Or you'd be overseeing the transportation goals for retail or wholesale fulfillment — where you would work closely with suppliers, sales managers, customer service offices, technology departments, and vendors.
A transportation manager is usually paid by the hour, averaging about $43 — or $89,400 a year.
#13 – Legal Assistant
Love watching all of the law shows on TV? Do you ever picture yourself handling these types of cases?
In a law firm, the legal assistant (or paralegal) completes most of the paperwork, research, and document filing.
If you're organized and enjoy a fast-paced work environment, this job could be for you.
The average wage for legal assistants is upwards of $24 an hour ($49,900 a year), with the possibility of working more than 40 hours a week at a busy firm.
#14 – Artist
Working as an artist is one of the most unconventional office jobs — with the possibility of earning you a huge yearly income.
Artists don't need a degree to pursue their career. All you need is a creative mind and an artistic touch to turn your artwork into a career.
Flexible hours and the added bonus of being able to work from a home office or studio make this career an attractive option. Successful artists can make upwards of $60,000 a year.
How to Find Good Jobs without a College Degree
Careers without college are definitely out there — you just have to know where to look.
Earning a good income without a college degree is most likely if you have common sense and exceptional life skills.
Even though you don't need a degree in order to be good at your job — it's up to you to acquire the necessary skills and training in your field. Refine your skills in any way you can, so you'll stand out from others who are seeking the same job.
Oh… and guess who else didn't graduate from college? Bill Gates never graduated from college either!
Resources For Finding Jobs Without A Degree
I'm a health nut, a frugal mom, a dog lover, a DIYer, and a gadget girl. Personally, as a post-divorce, working single mom on a budget I have a lot of experiences that I enjoy sharing so others can learn from the things I wish I knew earlier! Professionally, I've worked full-time in a variety of marketing, sales, and editing jobs. You can always find me at the corner of Good News & Fun Times as Managing Editor at The Fun Times Guide (32 fun & helpful websites).