This post may contain affiliate links. If you buy thru these links, we may earn a commission at no additional cost to you.
---
If you're an artist, graphic designer, or photographer, you can make a significant amount of money by utilizing the online storefronts offered by popular Print On Demand websites (or POD sites).
You've probably heard of them before. Print On Demand sites like Cafe Press and Zazzle are 2 such websites that put their services to work for you! 
They've got the traffic. You've got the artwork. Together you sell gifts, t-shirts, greeting cards, or unique pieces of art. It's a win-win.
Following are some tips for getting started in the Print On Demand business…
Why Print On Demand Is A Good Business Option
If you've got a knack for artistic stuff (graphic artist, photographer, etc.), there are a number of profitable online opportunities available to you.
The best part is you submit the artwork, and these Print On Demand sites print & ship the orders for you.
That's right… NO INVENTORY! Zip, zilch, nada.
In effect, you're paid many times over for artwork that you only need to create and submit once. You could continue to earn revenue from a single piece of artwork for many months — if not years.
Not to mention the fact that the services of these Print On Demand websites are provided at no cost to you! They simply receive a portion of your sales… that's all. And since you have absolutely no inventory or shipping to worry about, it doesn't get any better than that!
How A Print On Demand Business Works
Here's how Print On Demand services for artists work:
Print On Demand websites display your creative works whenever customers visit their site and search for items that are similar to what you offer.
They display all of the items that your words, image, or artwork can be printed on — like t-shirts, greeting cards, calendars, mugs, and a variety of other items.
Then, it's up to the customer to decide which item they like the best.
Once the customer places an order, the item is printed (on demand), shipped to them, and you receive a commission.
Most Print On Demand sites set a "base price" for each type of item they sell online. Any amount received from the customer over and above the base price is your fee — which you determine, based on how much profit you would like to make. Checks are typically mailed to artists once a month.
See how 2 young entrepreneurs earned millions with their Print On Demand business.
What You Need To Start A Print On Demand Business
First and foremost, you must be somewhat talented with graphic arts and/or photography. If your work isn't top-quality, then it won't sell — you'll just be wasting your time.
You also need to have access to a graphics program that you can use to create, crop, edit, and resize your work and save it in the .png format. If you don't have such a program, try one of these FREE programs which happen to be rather sophisticated: Gimp or PaintNET.
Finally, submit your work to one or more of the following Print On Demand sites:
In effect, you're setting up an online store, but the Print On Demand sites are fronting all of the costs — including stocking a wide variety of inventory and handling all shipments & returns.
What could be better than that?
Make Money Online With Zazzle No Experience Necessary
How To Take Your Print On Demand Business To The Next Level
In addition to the free services that these Print On Demand sites offer, there are a number of premium services available to artists for a fee. So if you're interested in kicking things up a notch with your online storefront, some of these might be worth considering. They could help you increase traffic to your storefront and ultimately increase sales.
To increase sales of items bearing your artwork even more, you should devise a marketing plan that will help drive traffic to your storefront. This could be done in many ways, including:
Buying advertising (Google Adsense)
Linking to your storefront on your own personal website (and getting your friends to do the same)
Writing articles about the unique items you've created and where they're available (this is especially helpful when your item appeals to a particular "niche" or audience)
Interacting with fellow artists and/or potential clients on the online forums found at these Print On Demand sites
How To Create Your Own Online Store
Want to set up your own online store instead? Try Shopify.
With Shopify, it's simple and easy to create an online store from scratch — thanks to the built-in ecommerce templates that make it as easy as 1, 2, 3.
With over 20,000 online stores using Shopify, you'll be in good company while running your Print On Demand web store the way you want it done!
Must read: The Ultimate Guide To Starting A Print On Demand T-Shirt Business
If you've used Shopify or Print On Demand sites to sell items with your artwork on them before, let us know how it has worked out for you. And if you have any tips for first-timers, please share in the Comments below.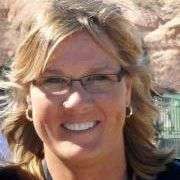 My very first job after college was as a Career Counselor — helping college graduates choose their ideal career and plot a course toward their dream job. Ever since then, I've been helping others streamline the job search process — by focusing only on what's most important and ways to stand out from other job candidates. As an entrepreneur myself who works from home full-time, I'm especially passionate about helping others fulfill their entrepreneurial dreams. When I'm not helping people find ways to get paid doing what they love, you'll find me at the corner of Good News & Fun Times as publisher of The Fun Times Guide (32 fun & helpful websites).