This post may contain affiliate links. If you buy thru these links, we may earn a commission at no additional cost to you.
---
Now is the time!
According to the latest government surveys, there are over 600,000 entrepreneurs in the United States who have a 6 figure yearly income from home based businesses.
Building a business from home requires a specialized set of skills.
You have to understand the scale of your product and put into place the systems that will enable you to run it without outside help.
Must read: Some Interesting Home Based Business Stats
Here are 5 ideas to help you start a home based business making $100K or more:
#1 – Create something that solves one of your routine problems.
One of the best places you can look for business inspiration is in your own life. If you have a glaring problem that you wish someone else would fix, you can build a business around it.
For example, Katherine Krug, founder of Better Back, suffered from intense sciatica pain from sitting. To find a way out of her predicament, she devised a strap which placed her spine into the proper posture while sitting. She put it up on Kickstarter and received over a million dollars in funding.
#2 – Use an online store to sell your products.
Having your own store for your home based business gives you the freedom to customize the user experience, bypassing the need to tie up with retailers or larger companies to sell your products.
Creating your own store is extremely easy with tools like Shopify, Etsy and other ecommerce platforms. If marketing, design, or freelance writing are your passions, look into Guru.
#3 – Use the Internet to reach people outside of your community.
If you already have a set of skills which make you money, you can use the Internet and social media outlets to reach a much larger audience.
For example, if you're a personal trainer or nutritionist, use the Internet to connect with clients that you would otherwise never have access to.
#4 – Create an online teaching course.
If people always say that you're good at explaining things, then you'd be a good teacher for others who want to learn how to do a specific task.
There are lots of options available online that can support your home based business that's focused on helping people or teaching others how to do something that you're good at.
Several platforms like Udemy, Skillshare, and Coursera are available to those who want to put their material online. And if you have the required technical knowledge, you can build your own online teaching course.
#5 – Write and publish an eBook.
Platforms such as Amazon and Goodreads have made it very easy for talented authors to publish their own books. The benefit: you don't have to spend time pursuing a big publisher. Plus, these platforms have a wide user base.
Amanda Hocking is one of the most popular self-published authors, having earned over $2 million via her Amazon book sales.
HOME-BASED BUSINESS: 8 Tips To Starting A Business At Home
Becoming a home based business entrepreneur is easier than it has ever been before.
You do, however, have to work at your business daily, keep learning constantly, and stay up-to-date on trends.
Other 6 Figure Home Based Business Ideas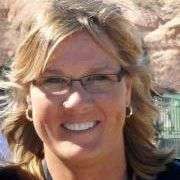 My very first job after college was as a Career Counselor — helping college graduates choose their ideal career and plot a course toward their dream job. Ever since then, I've been helping others streamline the job search process — by focusing only on what's most important and ways to stand out from other job candidates. As an entrepreneur myself who works from home full-time, I'm especially passionate about helping others fulfill their entrepreneurial dreams. When I'm not helping people find ways to get paid doing what they love, you'll find me at the corner of Good News & Fun Times as publisher of The Fun Times Guide (32 fun & helpful websites).