This post may contain affiliate links. If you buy thru these links, we may earn a commission at no additional cost to you.
---
Hot dogs are a simple food — requiring very little in the way of preparation, they're modest in cost, and are as American as apple pie.
Here in Duluth Minnesota, there's a long-established hot dog vendor business selling under the name "The Original Coney Island." The largest portion of their business is generated from the sale of coney dogs, dressed with coney sauce, mustard, and onions.
Many years back, I often picked up "5 coney dogs with everything" for lunch at a cost of about $2.50. It was an economical meal that came guaranteed with heartburn to carry me through the rest of the day.
Today, I'm more likely to order just 2, but the tab will come to $3.50, indicating a healthy profit on a very small investment for the modern hot dog vendor.
Are you interested in getting in on these profits?
Well, I've done some research about being a hot dog vendor. Following are some of the biggest questions that I had. Hopefully, they'll help you decide if a hot dog vendor business might be right for you (… and I've thrown in some tips to get you started).
Why Hot Dogs?
Every ball park, county fair, and football stadium sells them. With such a large captive customer base, serious money changes hands during these and many similar events.
For starters, read these personal stories about selling hot dogs through the recession.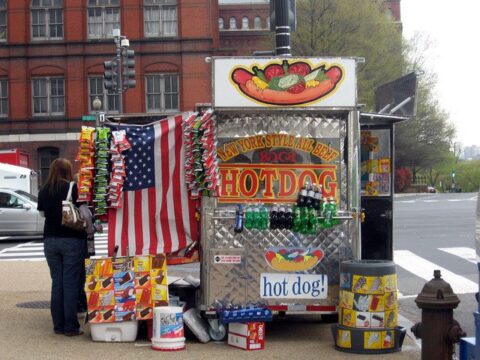 There are a number of benefits to selling hot dogs:
Since they're a pre-cooked food item, licensing and Health Department regulations are much simpler.
If you limit your serving utensils to plastic throw-away items, you'll be able to eliminate the need for commercially rated dishwashing facilities.
Inventory is readily available, so you don't have to keep a large quantity of product in storage to meet your needs.
Obviously, selling hot dogs isn't rocket science. Though to be successful, it does require you to be friendly and outgoing.
After all, this is a business that involves selling hot dogs to the public. The better your presentation, the more business you will generate.
Don't miss Fast Company's slideshow: The Business Of Selling Hot Dogs.
How Do You Get Started?
Calculating that every sale means a profit of at least $1 to $2, you will quickly realize that as simple as this business is, it can also be quite lucrative.
Now that I've got your attention — here's what you need to do now:
You'll need to have your business plan approved by the Health Department in your city before you purchase your equipment. (They may have special requirements about buying an off-the-shelf vending cart.)
Seek out and observe some busy hot dog operations and take notes.
Research and seek out profitable locations.
Like in real estate, the key word is: location, location, location. Placing your hot dog concession in the right spot will guarantee a high level of traffic.
Selling the best possible hot dogs will guarantee repeat business. Drawing in that first new customer (and turning them into a repeat customer) is completely up to you, it's all in the presentation.
More tips on selling hot dogs from The Hot Dog Professor.
Where Do You Set Up Shop?
Selling hot dogs can be done easily at a variety of different venues in a variety of different ways, including:
Be sure to get all of the supplies you'll need for your first day selling hot dogs!
This hot dog cart manufacturing video will give you some idea of what goes into building a street vendor's cart. And I've included a lot more vendor cart resources below, as well.
Here are some fun facts about selling hot dogs at baseball stadiums.
What's The Key To Success As A Hot Dog Vendor?
You can make a great deal of money, but you'll want to make sure you prepare yourself for being a small business owner working in the retail world.
Here are a few things you'll need to consider before starting your hot dog vendor business:
It takes hard work – anytime you want to generate an income, you've got to physically go outside, prepare your cart for service, and vend to make money.
It's not a get rich quick business – if you think you're going to take your cart out and immediately begin making $100,000 in net revenue, you'll more than likely be disappointed in the results.
You'll have to deal with the public – anytime you operate a customer service based business (including a hot dog stand), you will encounter challenging people. Eventually, someone is going to complain about the quality, taste, or temperature of their hot dog (even if nothing is wrong with the product).
Here are important hot dog stats including: Top Hot Dog Consuming Cities, the Size & Scope Of The Hot Dog Market, and Vital Hot Dog Statistics.
The key to success in the vending market is to sell the very best hot dogs you can obtain.
Buying the best product will still have your investment at 50 cents — or less — per hot dog. With the going price for a hot dog at sporting events averaging between $2.50 to $3.50 each, you can see that the profit margin is huge.
Low-quality hot dogs may save you a few cents when buying your inventory, but that will also eliminate any hope of returning customers.
See which types of hot dogs are popular in different parts of the country.
How to be Successful in the Hot Dog Business
If, after doing your own research, you find that hot dogs aren't your thing… don't forget my tips for starting a food truck or mini donut business!
Equipment Resources For Your Hot Dog Business
In addition to the links I've included above, here are some other helpful sites with the equipment you'll need to get your business started as a hot dog vendor:
I've been involved in RVing for 50 years now — including camping, building, repairing, and even selling RVs. I've owned, used, and repaired almost every class and style of RV ever made. I do all of my own repair work. My other interests include cooking, living with an aging dog, and dealing with diabetic issues. If you can combine a grease monkey with a computer geek, throw in a touch of information nut and organization freak, combined with a little bit of storyteller, you've got a good idea of who I am.